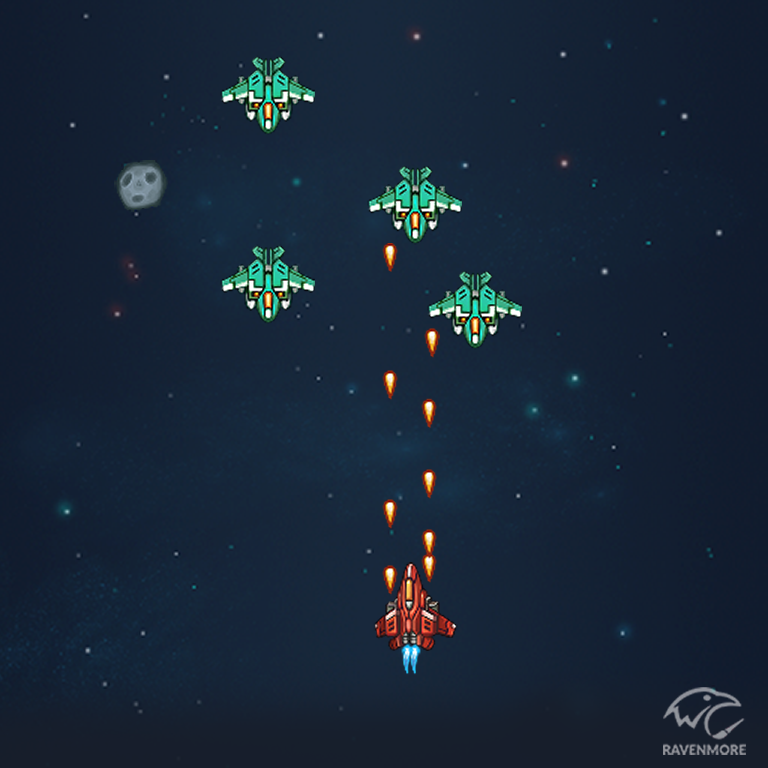 Pixel Space Shooter Assets
A downloadable asset pack
Starter Set of 2D space shooter sprites, pixel-art stylized. 128x128 with 2px blocks, or 256x256, 4px blocks.
Contents:
Player ship [Two colors, 2 turning frames]
Enemies [2 with 1 turning frame, 3 colors each]
Mine [Layered]
Explosion animations [2x 9 frames each]
Bullets [3 colors and 3 sizes each]
Exhaust animation [6 frames]
Platform tiles [4 base + 4 corners + 2 edge tiles]
Turret mount + turret [4 colors]
Turret gun barrel
Asteroids [4]
Seamless backgrounds [2]
Shadows [all of the above, except mines]
Sprites come in 2 sizes: 256x256,128x128. Suitably pixelated.

Each sprite as a single separate .png file.
Hope you'll have fun with these! :)
Note: There's also a regular [not pixel-stylized] high-res version with even larger source files available here:
https://ravenmore.itch.io/space-shooter-assets-space-rage
PS. Font used in the screenshots is FiveByFive:
https://www.dafont.com/fivebyfive.font
Perfect for your game UI if you're using these assets :)

PS2 Want more? Shout! Speak up! Let me know in the comments :)
Download
Click download now to get access to the following files:
PixelSpaceRage_2018.2.rar
1 MB
Comments
Log in with itch.io to leave a comment.
Hi Ravenmore, have I already acquired this package in graphicriver any possibility of updating it?
I'm not really working with Graphicriver at the moment, but can you PM me your email? I think I have a way to handle this :)
Err, not sure if itch.io has PMs, but you can always get in touch via Twitter DM or there's a contact form on my site. Links in my profile.
Amazing! Which license is included?
Man, I almost forgot!
I use the GDM PRO license template to make things simple
https://www.gamedevmarket.net/terms-conditions/#pro-licence

TL;DR:
(+)One commercial project/purchase, commercial and personal use allowed.
(-) Don't make a logo out of this, or resell without the project you used it for.

Though I don't go after you with lawyers if you happen to use these for multiple projects. (Not yet, anyway ;)) But it is a nice gesture, especially at this price point!